Project Description
Led by ArtReach JOURNEYS is a pan-European project which has developed from key project strands of Journeys Festival International, a festival produced by ArtReach that celebrates the artistic talents of refugees and asylum seekers, sharing refugee experiences through great art and culture.
The aim of JOURNEYS is to support refugee integration by delivering artistic strands that – substantially raise the profile of the activity and its positive impact (for refugees and host communities); influence policy and the way local communities perceive migrant arrivals; enable the experiences of refugees to be effectively shared through artistic creation and presentation; and enable artists and cultural practitioners to learn and develop their practice in response to new and different approaches and artwork being presented by refugee artists.
The JOURNEYS Project is co-funded by the European Union through Creative Europe.
JOURNEYS PROJECT STRANDS:
Look Up – a high profile outdoor art exhibition presenting visual art work from refugee artists on a large canvas in each city.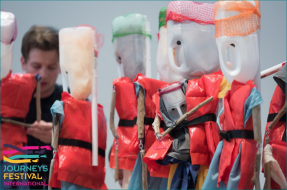 The Container Theatre Project – supporting the creation of pop-up theatre performances and the making and screening of short new moving image productions to share refugee stories.
JOURNEYS Seminars – bringing together artists, with refugee support groups and the wider public, to explore ideas and issues arising from the arts activity and its themes.
David Hill (ArtReach Director) said: "2016 has seen Journeys Festival International develop substantially to reach new audiences and create outstanding new work delivered by a range of refugee artists working in performing, visual and digital arts. With Creative Europe funding for JOURNEYS in 2017 we can now look forward, with the continuing commitment of Arts Council England through Ambition for Excellence, to developing exciting, challenging and wide-reaching pan-European work in 2017."
Christoph Jankowski, Head of Culture, England & Culture Advisor, Creative Europe Desk UK
"It's great news that UK-led projects have been awarded this funding. The number of applications received – over three times as many as expected – indicate that refugee integration is an area about which the creative sector feels particularly passionate. It's heartening to see such a desire to promote understanding between cultures and to see international creative partnerships stepping up to engage with big international issues."
JOURNEYS IN NUMBERS:
One of three UK led projects selected for funding by Creative Europe, in a special 2016 Call for refugee integration using culture
One of only 12 projects selected from 274 applications for the Creative Europe funding
4 Partners organisations: ▪ Museo Dei Bambini (Explora) in Rome ▪ Altonale Festival in Hamburg ▪ CESIE in Palermo ▪ Trafo House as Associate Partner in Budapest
7 European cities involved
33 Seminars will be delivered
50 Artists
65 New Artworks
60 Local cultural and community partners
11 new performances
6 Moving Image Works
525 Refugee Participants
388,145 Total Audience numbers
Journeysfestival.com/JOURNEYS
#JOURNEYSEurope